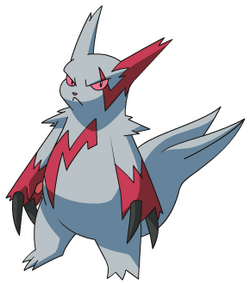 Zangoose
Debuts in
[[{{{epnum}}}]]
Voice actor
Japanese
English
As Zangoose
{{{java1}}}
Zangoose is a character in the Pokémon anime. He is a Pokémon Trainer. He is also the rival of Infernape.
When Zangoose first appears, he now sport a white cloak and keeps his face from being shown. Only under special circumstances does he remove the cloak. He reveals that Scizor and Sandslash are on different missions, and will meet up with him again later.
Personality and characteristics
Edit
Moves used
Edit
Ad blocker interference detected!
Wikia is a free-to-use site that makes money from advertising. We have a modified experience for viewers using ad blockers

Wikia is not accessible if you've made further modifications. Remove the custom ad blocker rule(s) and the page will load as expected.