Snivy

(ツタージャ Tsutaja)

Generation V
Evolutionary Line
{{{1}}}

Gender

12.5% ♀

/

87.5% ♂

Weight
Height
—
—
—
—
Pokédex Color
Egg Group
Green
—
Body Style
Footprint

Cry
noicon
Physiology
Edit
Gender differences
Edit
None.
Special abilities
Edit
In the anime
Edit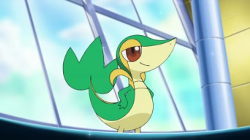 Major appearances
Edit
The first Snivy seen was when Professor Beheeyem, introduced the starter Pokémon of Unova; in BW001.
Infernape's Snivy
Edit
Main article: Infernape's Snivy
He first appeared in BW001. Infernape captures him in BW003.
Minor appearances
Edit
Pokédex entries
Edit
| Episode | Pokémon | Source | Entry |
| --- | --- | --- | --- |
| BW001 | Snivy | Infernape's Pokédex | Snivy, the Grass Snake Pokémon. Smart and very cunning, Snivy finds its way out of major situations. |
This concludes the entries from the Best Wishes series.
Ad blocker interference detected!
Wikia is a free-to-use site that makes money from advertising. We have a modified experience for viewers using ad blockers

Wikia is not accessible if you've made further modifications. Remove the custom ad blocker rule(s) and the page will load as expected.